When I saw this pin on Pinterest I knew I had to make it. It looked so good and refreshing.
Tuesday was the day! It was a warm day and all the ingredients were on hand.
*the original recipe can be found here. The recipe below is with my few adaptions.
40 ounces crushed pineapple with juice
3 tablespoons
lemon juice
1/3 cup
sugar
1 and 1/2 cups
heavy whipping cream
, whipped
Drain pineapple; reserve 5-6 tablespoons juice. Set aside. Place pineapple, lemon juice, sugar and 3 tablespoons pineapple juice in blender and blend until smooth. Pour into two 1-quart freezer zipped bags and store bags flat in freezer. Freeze 1-1/2 hours. Stir pineapple slush gently into whipped cream in large bowl. Return to freezer until completely frozen, about 1 hour (I had mine in for 3 hours and it was still a good consistency). Just before serving, whip some more heavy cream with the rest of the reserved pineapple juice. Top each serving of the whip with a dollop of whipped cream.
Free Pretty Things' Whatever You want Wednesday.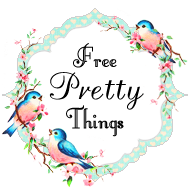 Katie and Sarah's Project Pinterest
and Allyson's Finished Friday.