***This giveaway is now closed...***
but please still check out the sponsor's etsy shop below.
Today I want you to meet Suzanne, the first sponsor in the Collections series...
I think postage stamps are graphically beautiful works of art in miniature that are too pretty, too colorful, and too significant to throw away, so I make collages with them. Some collages are mixed and some are themed like flowers, flags, and "Love" stamps. The "Love" stamps are my favorite, but all stamps make me happy. I hope they make you happy as well.
Suzanne has a number of pretty stamp themed items in her shop...
Suzanne is generously sponsoring this
set of four spring flowers postage stamp magnets
for one of my readers.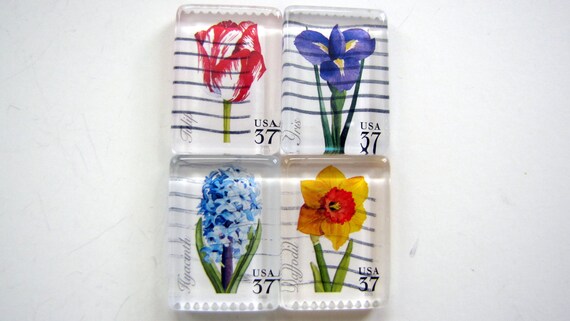 There are three ways to enter this giveaway: heart the etsy shop, state your favorite item, and leave a comment telling me if you collect postage stamps. Enter below...
a Rafflecopter giveaway